What are your plans for the summer? Are there things you can do with your dog?
Grizzly being a service dog, gets to go everywhere I go. And I always make sure that wherever I go it is safe to have him along. Let me give you an example...
A few years ago my daughter and I were shopping before Christmas, and she wanted to go into a store that sold very expensive soaps and bath bombs, hoping to find something for me for Christmas. An employee stepped on Grizzly's tail, and broke it. The howl of pain from my dog, who is pretty tough, broke my heart.
Now Grizzly is not a little dog. I had to hand my purse over to my daughter, and lift poor Grizzly off the floor to get out of the store. Not an easy feat, but he protects and takes care of me, so it is only fair for me to do the same for him. I was incredibly surprised when I inadvertently knocked over a single piece of soap on the way out and the employee was more concerned about the soap than her injuring my dog.
SO...
I have learned to be very careful and ask for places to sit where Grizzly is safe. He gets to sit on the floor of the airplane with me, and I am very willing to delay in airports to ensure he gets specific seats on specific size planes. He has travel bowls, I carry food, his blanket from training since he knows where I put it means it is safe for him to lay down.
But it is easy to forget things like keeping hydration available, protect the paws, watch where you park, things that with children it was pretty common.
Now Grizzly and I are planning to schedule events, and he already has his own tote of things like a battery operated fan, extra bowls, and yes, he is even getting his own bandanna for him to be spiffy.
He has something called a Chill Out, which I can get wet, then freeze to make very cold, and it goes around his neck. He gets his Musher's Secret on to protect his pads. And toys, the squeaky variety he LOVES must be included. He also has his Bear Bones Bakery treats to share with fellow friends...
What I would love to do is find a place locally where I could see if Grizzly likes to swim. Take him for a hike in the woods, to outdoor patio type places where other dogs are able to join in the fun Grizzly gets to have when we go out to eat.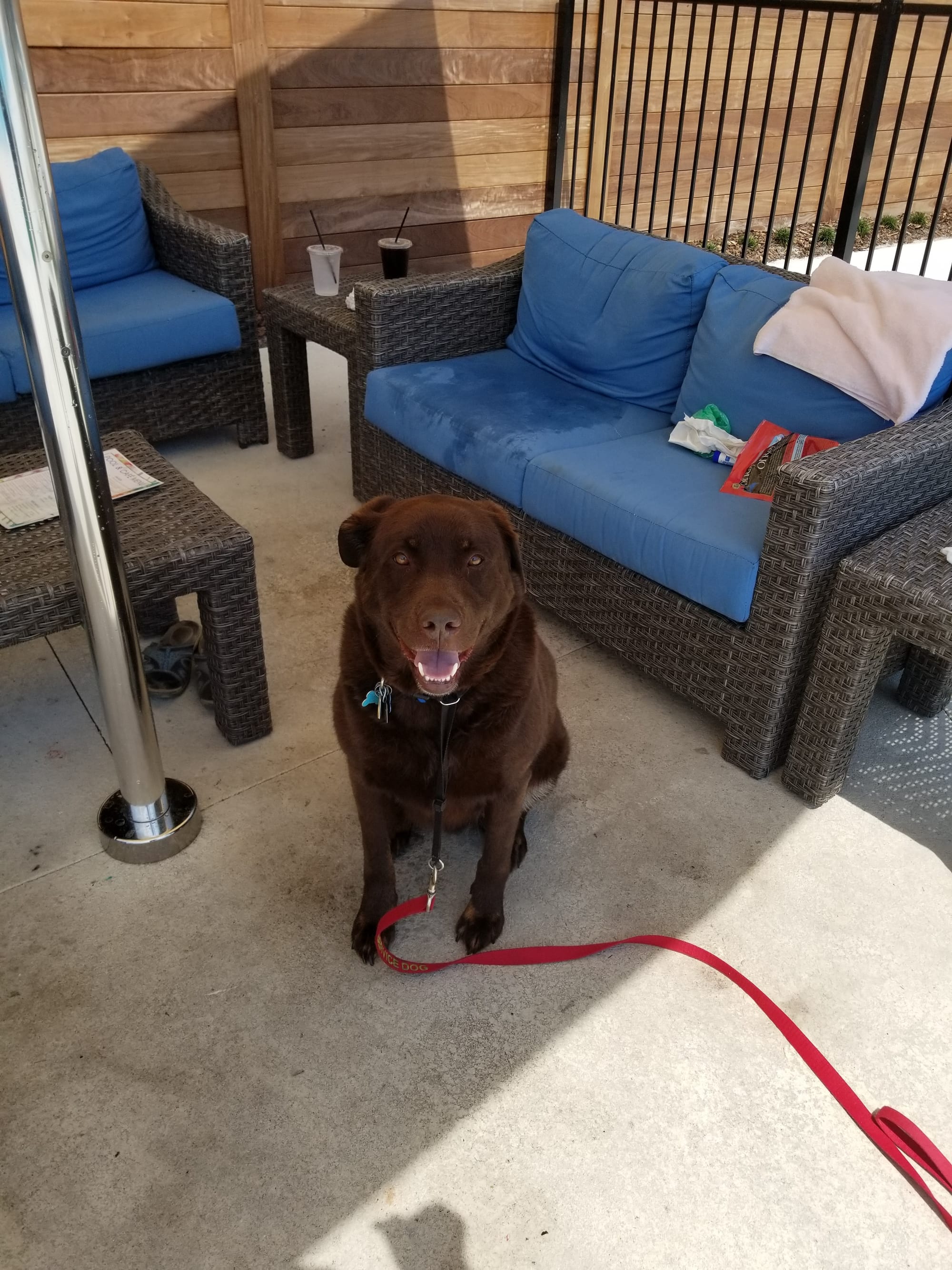 We know he likes going to the pool, and to the park when on vacation at Poppa's house in NC. Where else can he get so much love and attention?
He even enjoyed Mom making treats down south! He waited by the oven just like he does at home while they bake!
So when you think summer fun, don't forget to include your canine, they are the best of companions!