I am so happy to have added a Flavor of the Month to our Bear Bones Bakery Treats!
This is so that your beloved canine can love them as much as Grizzly! See him taste testing, and was wiggling in glee so much that I couldn't get a picture without his happiness!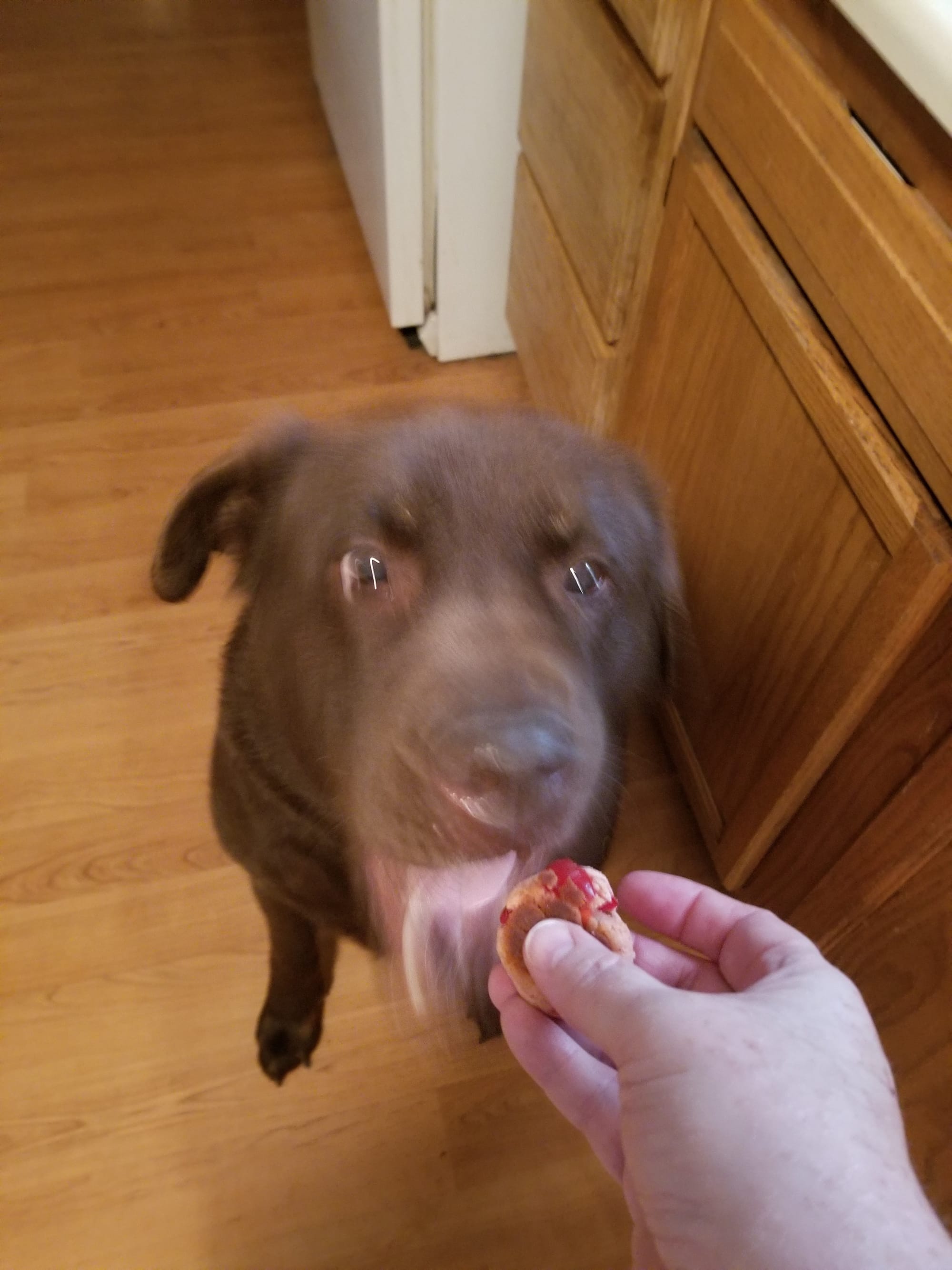 The Flavor of the Month was chosen with the flavors that are in the lineup, as well as new flavors that are seasonal. All have special sentiments behind them...
January, Peanut Butter
My daughter's birthday, and she used to love to eat peanut butter just about anything! This month's choice is in her honor.
February, Chedd-Ah
We brought this out as a new flavor just in time for My Furry Valentine in Feb 2020. It was such a great hit, it became the Feb Flavor.
March, Pina Colada
This is a well loved flavor, it just had to be included.
April, Chicken Liver
One of our new flavors added to the website, and a Grizzly favorite. Just in time for tax time!
May, Any Foundation Flavor
Just because you may find a new one to love!
June, Fish Fry
Another new flavor, that reminds me of spending time in Wisconsin in the summers and going to Fish Fries there!
July, Apple Pie
A seasonal offering, because there is nothing more American than Apple Pie!
This is a seasonal flavor, but can also be special ordered.
August, Puppy Mint
Grizzly's (and Megan's) birthday is in August, he loves mint as much as I do, so his birthday month flavor just had to be Puppy Mint.
September, Bacon, Bacon
Ah, who doesn't love bacon? No canine I know!
October, Meatball
Grandma W, who taught me how to bake, inspired this flavor. Her birthday month made this the perfect choice.
November, Pumpkin Pie, Punkin' Pie or Cranberry
Your canine will give thanks to get any of these flavors for Thanksgiving. Cranberry is seasonal, or can be special ordered.
December, Ginger Snaps, Gluten Free
Nothing says Christmas to me better than my Aunt's Ginger Snaps. This recipe has been converted into a seasonal offering for your canine to enjoy. Knowing some of my favorite extended canine family have issues with Gluten, I send them the Gluten Free flavors. So both of these are December flavors.